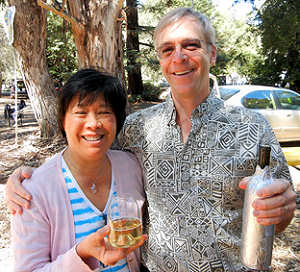 Rick was born near snowy Buffalo, NY and Terrie in sunny Honolulu, HI.  Rick moved to Los Angeles in 1990 and Terrie in 1976 where they both were employed in the aerospace industry.  Terrie introduced Rick to fine wine (who had zero wine experience) and both have been avid consumers ever since.  Over the years, their tastes have gone up along with their inventory so their extended cellar in San Carlos is under the pool table.
2012 is Rick's and Terrie's first endeavor into wine making with Chateau Garage, and they hope to learn the finer points of wine and wine making from the experienced veterans of the group.  In their spare time, Terrie enjoys gourmet cooking and gardening while Rick enjoys playing handbells in a professional ensemble.
When it comes to tasting, Rick prefers crisp Sauvignon Blanc for whites and Pinot Noir and Zinfandels for reds. Terrie enjoys a nice Prosecco and anything dry, fruity, and complex, and is willing to taste the non-standard blends.